About Christa's Luck
Inspired by a real horse rescue,
Christa's Luck
is a teen fiction novel about Christa's love for an endangered herd of wild horses and how her special connection with them inspires her to look beyond her own unforgivable mistakes and try again. She rises up to become a horse advocate at fourteen, whose passion and heart move an entire town to take action.
"In Michael and Jennifer Grais' YA novel, a 13-year-old's fate intertwines with that of the legendary Lost Herd of wild mustangs that roam the canyons of Nevada. Christa Cassidy knows that she's lucky. She lives with her parents and older sister on a small ranch in a beautiful part of the world; she has a grandmother who loves her; and she's expecting a baby sister before the end of the summer. She even has her own horse named Lucky. But like any other teenager, she's suspended between childhood and adulthood, unsure of her place in the world, at odds with her family, and uncomfortable with the way she looks, talks, acts, and feels. She's really only at home when she's sitting on a horse—particularly when she's trying to track the Lost Herd through the canyons around her home. But when something horrible happens to Lucky, Christa's world is upended, and things only get worse when it becomes clear that the Bureau of Land Management intends to round up the mustangs. With the help of a strong, troubled horse named Jenner, Christa is determined to figure out what's going on. She soon finds that she must rein in her own passions as well as her horses, and that she won't accomplish anything without friends and help." Kirkus Reviews In the vein of
The Horse Whisperer
and the
Black Stallion
,
Christa's Luck
is an epic adventure story of courage, friendship and freedom.
Praise for Christa's Luck
"Michael Grais, the co-screenwriter of the 1982 film
Poltergeist
, and his wife, Jennifer, develop the plot handily, with a slow build toward a final, cinematic crisis in which Christa and her friends enact a daring rescue. ...[T]his is a satisfying YA novel—with a bold, visionary, and active young heroine, to boot. Highly recommended for young fans of horse-related fiction." --
Kirkus Reviews
"I just finished reading
Christa's Luck
. All I can say is I haven't finished a book since
Harry Potter
that I wanted the author to hurry up with the second. I don't even know what Jennifer and Michael have planned but I sure hope their pens are moving right now. Well, for now I will just reread their great book." --Susan Pommer, Gold Medalist Grand Prix Dressage winner
"I instructed everyone to stay away as I read
Christa's Luck
. I was so emotional and drawn into the story. The book just keeps rolling and rolling and rolling and building on itself like waves. I totally loved it. I had a spring in my step for days thinking about it and I still miss that family. I can see it on the big screen too." --Jean Dillon, Plymouth, MN "I was biting my fingers during the climax!" --Janet Hogue, Portland OR

Purchase Links
My Thoughts:
Christa loves horses, and the thought of the last few herds of wild mustangs in Nevada being rounded up and being taken into captivity breaks her heart. Christa is a typical teenager, at that awkward age, not quite adult, not quite child – uncomfortable with herself and at odds with her family. She tries, but she makes mistakes. In a terrible turn of events her best friend Lucky dies and Christa can't forgive herself because she knows it's her fault. Knowing that Lucky would want her to continue to ride, Christa begins to ride Jenner, given to her by her family for her 14th birthday.
Seemingly perfect, and purchased at a steal of a price, they soon discover the reason. While on a hunt for the fabled lost herd of Nevada, Jenner and Christa face serious danger. Though they locate the herd, the twists and turns in the story turn 14-year-old Christa into an advocate for wild mustangs, bring her and Jenner into life-threatening danger and cause the town to work together.
The story starts out at a gentle reading pace but picks up speed towards the climax as the suspense builds so that you won't want to put the book down until you know what happens to the beautiful mustangs.
The authors have a wonderful way with words when it comes to describing these beautiful, majestic creatures and the thought that the Bureau of Land Management wanted to reduce these herds to zero brought tears to my eyes. Having never seen a herd of wild mustangs before myself, I can only imagine how amazing it must be. After having read this book, if I had the opportunity, I would definitely love to do so.
I thought the characters were fairly realistic. The squabbling between Christa and her sister seemed pretty normal for sisters. I was a little surprised however that while Christa's parents were very concerned about Christa taking part in the rescue, they didn't seem much concerned about Christa's sister taking part even though they were riding together and their roles were equally dangerous. Neither did the parents of Christa's friend seem concerned when she volunteered.
I loved that this story was based on a true story. Watching movies or reading books based on true stories always captures my imagination about what can truly be accomplished in real life. I always like to think that these types of stories are not far off from the actual events. I'm thrilled that the authors have provided links to further information about wild mustang rescues and other related information on their website and this review post.
Christa's Luck was a wonderful, suspenseful read that will be enjoyed by animal lovers in general and horse lovers in particular especially in the teen age category. I would highly recommend it. I gave it 5 stars out of 5.
Thank you to the publishers for providing a copy of the book in exchange for a fair and honest review. A positive opinion was not required. All thoughts are my own.
About Jennifer Grais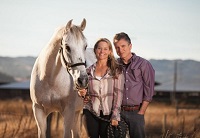 Jennifer Grais is a singer-songwriter who recorded several albums in Los Angeles and Nashville and toured as Jackson Browne's background singer. When she met Michael and they moved to the rural area of Topanga Canyon, CA, her childhood passion for horses was rekindled. She completed a year-long program of study with
Linda Kohanov
, best-selling author of "The Tao of Equus", and "Riding Between the Worlds," and began exploring a deeper relationship with horses. In December 2006, she was captivated
by footage of a horse rescue
that took place during a flood in the Netherlands at the hands of women riders. The drama of the rescue inspired the novel, "Christa's Luck," a young adult novel co-authored by Michael Grais. Research for the novel exposed Jennifer to the unfolding drama of the wild mustangs in the western United States and became the primary plot of the book.
Read more about Jennifer
and the inspirations behind Christa's Luck.
About Michael Grais
Michael Grais has written and produced movies of domestic and international acclaim including Death Hunt, Poltergeist, Poltergeist II, Marked for Death and Cool World and more. Michael has also contributed to the book Why We Write and has taught filmmaking at University of New Mexico and in various workshops abroad. After attending New York University's Film School and Emerson College, he earned his MFA in Creative Writing from the University of Oregon.
Read more about Michael Grais.
Michael and Jennifer currently live in Northern California with their horse, Solo and two cats Francesca and Finnegan. For more information about the wild horse issue in America, please read
Return to Freedom
and
Love Wild Horses
.
Author Links
a Rafflecopter giveaway